Do you have a physical B2B product to sell?
Then chances are you will do very well displaying it at a trade show.
According to Exhibitor Magazine, about 80% of their exhibiting subscribers make physical products. That's a big reason manufacturers exhibit in the first place – to bring their products to show them to potential buyers.
And from the other side of the aisle, buyers go to trade shows because they want to get their hands on the real thing, see it in action, and compare multiple manufacturers at the same time.
The variety of products exhibitors bring into their trade show booth is as diverse as the over 10,000 trade shows in North America.
To display your products for your modular custom exhibit design, start drawing up your RFP by ask these questions:
1. How big — or small — are the products?
2. Do they sit on the floor, or go on shelves, racks, tables, or podiums?
3. Do they need to be secured or locked up?
4. Who will be demonstrating them?
5. How many staffers do you need to bring?
6. Do you have a star or new product to emphasize?
7. Do your products need power? How much?
8. Do you have a non-physical / service product to promote?
Your answers to those questions will help get you started.
To further improve your likelihood of success, here are 8 ideas we've learned helping thousands of manufacturers bring their products to trade shows:
8 TIPS TO BETTER DISPLAY

YOUR PRODUCTS IN YOUR TRADE SHOW BOOTH
DITCH Confusing Clutter
Do NOT DOT YOUR SPACE WITH too many products:
An exhibit overflowing with products look like a flea market and builds a barricade that inhibits prospects from entering your booth.
Think of it as a junk drawer – it gets so full you can't open it, and when you do, you can't find anything.
To avoid creating confusing clutter, consider bringing only your biggest sellers or your key new products.
This is proven advice shared by many exhibitors who increased their results after making the change.
Above: Custom Skyline Picturescape backwall is a backdrop that aids your imagination in picturing the brand. If you are unable to differentiate your product, go with exemplary design details that elevates your product from chaos of the commodified marketplace. Fewer products often lends exclusivity and gives you a chance to create meaning with story-telling.
EVOLVE IN EMOTIVE ENGAGEMENT —
GET CREATIVE IN DEMONSTRATING YOUR PRODUCT
A good product demo is extremely effective in stopping traffic, engaging prospects, and leaving a lasting impression.
This is one of the hallmarks and advantages of trade shows over other media.
Invest considerable time in creating and practicing great demos for better trade show results, and then designing spaces for those demos in your booth. Often marketers are stuck in the rut doing the same thing. Exploring different industry segments broadens horizon and uplifts your brand.
Are you about to design a brand new exhibit? You want to cater to emotional enrichment — 5 things your exhibit design must convey for emotive engagement.
MOBILIZE SPACE DOMINANCE
EXHIBIT HARDWARE TO Support large products:
While large products often sit on the floor, you still need exhibit components, such as hanging signs and towers, to define your space and promote your brand.
Often large products are well served with kiosks next to them to describe their features and benefits. The idea is to harmonize the space juxtaposed with deliberately designed commas and exclamations!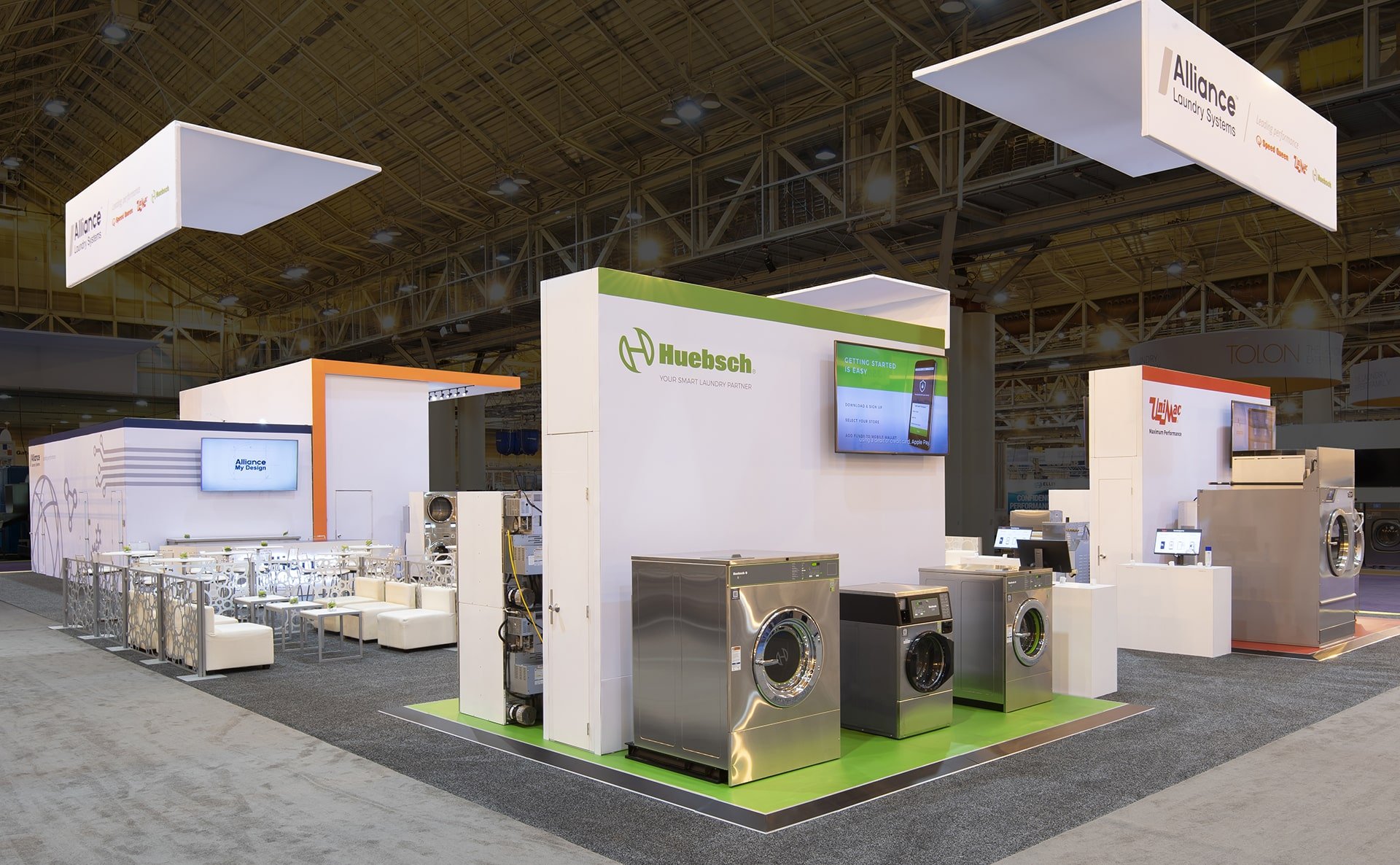 Above: Hanging signs, towers and back wall segments the space to bring harmony in the midst of the varied product sizes.
Below: Massive booth architecture to substantiate the space with products dotted callously all over without any thought to the flow of traffic. Size, volumes, and the angles of the products are all hanging in space-time in an attitude of conflicting conundrum.
Talk about being barricaded by products!
CASUALLY Conjure Up Contrast
Amplify small products
UNRAVEL THE ART OF EMOTIONAL DUALITY in GRAPHIC DESIGN
Bring your hard-to-see products to life with larger graphics showing them in use, or a demo that is filmed and projected onto larger monitors around the booth.
Above: 20' backwall that goes up 18' high with a contextual graphic collage towering above kiosks and table display cases strikes unique desirability. (Study the above image and the anchor statement — contemplate the humanness in the midst of manufacturing must-haves.)
Their small, valuable products are showcased in a secure display case, backed up by a bill-board sized graphic that combines a message of their innovation with images of their best vertical market applications.
TRANSPORT THE THRILL OF A THEATRIC PRESENTATION
Build a set, GIVE CONTEXT TO YOUR DESIGN:
Create an environment similar to where the products will actually be used, whether it's with the architecture of the booth, images on graphics, or additional props beyond your products that help signal to the buyer that they are "home."
Above: The centerpiece of their exhibit is a life-size example of their stair systems, although it only goes up 4 stairs to a platform which acts as a presentation area. It is all about creating a scene and a reason for the product to exist.
Kiosks and graphics show the wide range of products available, rather than try to stuff another complete stair into the booth.
JOLT THE BRAIN —
CHANGE THE SETTING
Mount your products. EXPAND ON THE DELIVERY LANDSCAPE OF YOUR PRODUCT.
Products that are heavy, valuable or that you want in a certain place with supporting graphics or to get at eye-level are often displayed better when mounted directly onto a wall.
Often small-to-medium-sized products are mounted in an arrangement, but large products can even be wall-mounted, too, although they require greater structure to support them.
Above: The heavy, yet decorative clay roof tiles are mounted to walls and a kiosk to minimize the space they take and put them where people can see them. However, the booth doesn't overflow with product, as there is also room for branding, meeting, and an AV presentation.
Above: Chairs mounted on walls. Chairs used as shelves. Chairs used to hang clothes and bags and knick knacks. Chairs used as an anchor to exhibit other products.
Who knew chairs could be this versatile!! (image: pinterest)
ELABORATE ON YOUR ExISTENTIAL ESSENTIALS
Tell THEM WHY YOU EXIST AND why you're better:
We'd all like to think our products sell themselves, and it's tempting to think that once your products are on display, they will.
Give yourself more visual proof by supporting your products with graphics that make your products' benefit obvious.
Do your products last longer?
Do more, faster?
Cost less over time?
Take less energy?
Tell your products' story with graphics and/or AV technology
Above: This big island booth has an exhibit architecture that flows with the story telling walls. Besides tall waving structures for branding, there are colorful, elegant enclosed spaces for important meetings. Still, a large space in the corner of the booth is set aside to display their large product. The carpet next to their large product has messaging to help promote their product story.
EMBELLISH WITH LIGHTS AND ACCENTUATE WITH ARCHITECTURE
Light your products AND DELIBERATE WITH FORMS TO CREATE FLOW
If your products are the star of your booth, then highlight them with extra lighting. It may be spot lights that put more attention on your products, uplighting on the shelves or display cases, or just a lot of light blasting your entire booth if most of your space is filled with products.
Lighting is a tool to focus attention on specific messages and products, set an environment, and create an emotional path to your products and services. In our abundant age of LED lighting, use it for mobilizing moods driving sub-conscious conversion in creating memorable moments.
Above: With many, many small parts to show, NSK's small parts are organized and labeled in well-lit showcases and mounted on counters in a clear and organized fashion.
Below: Serpentine, sloping architectural headers that spans across the space (20'x40' island booth). A successful solution for a service company that embodies strong design, quality project management, and strategic implementation.
If your product is a service, you may think that you are at a disadvantage, because you do not have a physical product to show and demonstrate.
See above as an example — a wind service company that have elaborated the elements of their logo as an architectural vehicle to entice the visitors with their unique selling proposition.
Use graphics, giveaways and story-telling to create experiences, delivering elegant simplicity to visually communicate what you do and why people should buy from you.
GROW WITH OUR CUSTOM MODULAR DESIGN FOR YOUR PRODUCT PERFORMANCE
From initial marketing strategy and exhibit design through manufacturing, implementation, and at-show support to storage, shipping, and even post-show marketing, we partner with our clients for a stress free memorable event.
Learn how you can use your event as an anchor to perpetuate your brand.