It is another day in making.
But this day, like any other day has long been in making.
It's on us to co-create a culture that works for everyone. Attention seeking is no longer a linear progression from the brand to the audience.
The old order of top-down dispersion is disintegrating. It lacked interactivity, inspiration, intrigue. It no longer meets the requirements of this hour.
And now (WE), your audience are rising to the occasion. They want to contribute their ideas, their stories, their poems to ignite mass imagination. They are the 'attention movers' of your brand as it oscillates between the physical and the digital realities.
In this article, we have explored some of the 'attention seeking', 'attention moving', and 'attention immersing' technologies.
Many trade show organizers are incorporating Radio Frequency Identification (RFID), Near Field Communication (NFC) and Bluetooth® beacons into their events. These are technologies you, an exhibitor should become familiar with and understand how each is used so you can take advantage of the marketing opportunities they provide.
THE FOUR TECHNOLOGIES THAT WE HAVE EXPLORED!
Radio Frequency Identification (RFID)
RFID is a passive technology as far as the attendee is concerned. RFID tags are embedded in the attendee's badge. That tag sends a signal to a reader or antenna placed strategically throughout the exhibit hall.
The show organizer can now track the movement of attendees throughout the show floor. Exhibitors can place antennas in their booth at different product stations to track attendee interest by the duration of time spent at each station. They can also use a reader to collect leads via the attendee's information provided on that RFID tag.
Pros: There is no more guesswork when it comes to attendee traffic. You can see exactly how many people moved through the exhibit hall and where they spent their time. The amount of traffic in your aisle is no longer a number based on opinion, but actual minute-by-minute fact.
Exhibitors using this technology in their booth can break down interest in product stations based on attendee demographics such as job title, industry, and geography. That can help with targeting your marketing and determining which products are the most popular with attendees.
Cons: The cost for the antenna or reader is still relatively high with prices between a couple hundred dollars and a couple thousand dollars depending on strength and system compatibility. The readers and antennas are noticeable and may interfere with your booth design. They also require dedicated power to operate.
Near Field Communication (NFC)
NFC is an active technology. An attendee badge is created to act as an NFC device. Exhibitors can embed NFC "tags" into digital signage. The attendee would then touch their badge to that display to activate a download of a brochure or white paper or to register to win a prize.
Pros: The cost of the NFC tags is low, as little as ten cents each. It also eliminates the need to ship paper to the show. Unlike handing out jump drives filled with information, the attendee only gets the information that is relevant to them. Because it requires no investment of readers or antennas, it is a more cost effective option for show organizers.
Cons: The show organizer or exhibitor will have to educate the attendee on how the technology works. The show must communicate the value, or it simply will not be used.
Bluetooth® Beacons
Bluetooth beacons are transmitters that broadcast signals, which can be heard by compatible or smart devices. Exhibitors could use beacons to send relevant information to an attendee's smartphone as they pass by the booth. When the technology is tied in with the registration data, exhibitors will know exactly which attendees stopped by their booth and what their behavior was while they were there.
Pros: The cost of this technology is very low, as little at $5 per beacon. Beacons also run on batteries (that last for months), and they are about the size of a quarter, so you can stick them anywhere in your booth. You can adjust the transmission range from 1 to 100 or so feet for more accurate readings.
Cons: The attendee has to download and log into the app, and turn on Bluetooth so that you can access their demographic information and push information to their smartphone. You are dependent on the show organizer doing a good job communicating that to the attendees.
HIGHLIGHTING THE ESSENCE OF THE NATURAL WORLD AND PROMOTING A DIGITAL ENVIRONMENT WITH
EYE-CATCHING VISUALS HAS MADE MIXED REALITY A PERFECT TOOL FOR MARKETING AND INFORMATION DIGESTION IN THE EVENTS INDUSTRY
Security, Sustainability and Immersive Explorations from CES2023
The above three trends were making the journey through the last decade. Now, they have entered prime time!
Sustainability through digital activations, as they provide experiences in a virtual world where physical elements don't need to be created or transported. Just think about transporting a yacht to showcase on the trade show floor. Instead of doing that, create a Virtual Reality experience where the attendee can see all the elements of the yacht without it being exhibited physically.
Many machinery and equipment companies are looking for creative ways to bring their products to the trade show floor and provide experiences that can be achieved in less square footage.
Immersive environments and Immersive graphics is all part of the digital eco-system. The global immersive technology market size was valued at USD 21.66 billion in 2021 and is expected to hit around USD 134.18 billion by 2030.
Immersive technology growth is poised to expand at a compound annual growth rate (CAGR) of 22.46% from 2022 to 2030. Immersive Technology is any technology that extends reality or creates a new reality by leveraging the 360 space. Because Immersive Technology leverages the 360 space/sphere, users can look in any direction and see content. Some types of Immersive Technology extend reality by overlaying digital images on a user's environment. Others create a new reality by completely shutting a user out from the rest of the world and immersing them in a digital environment.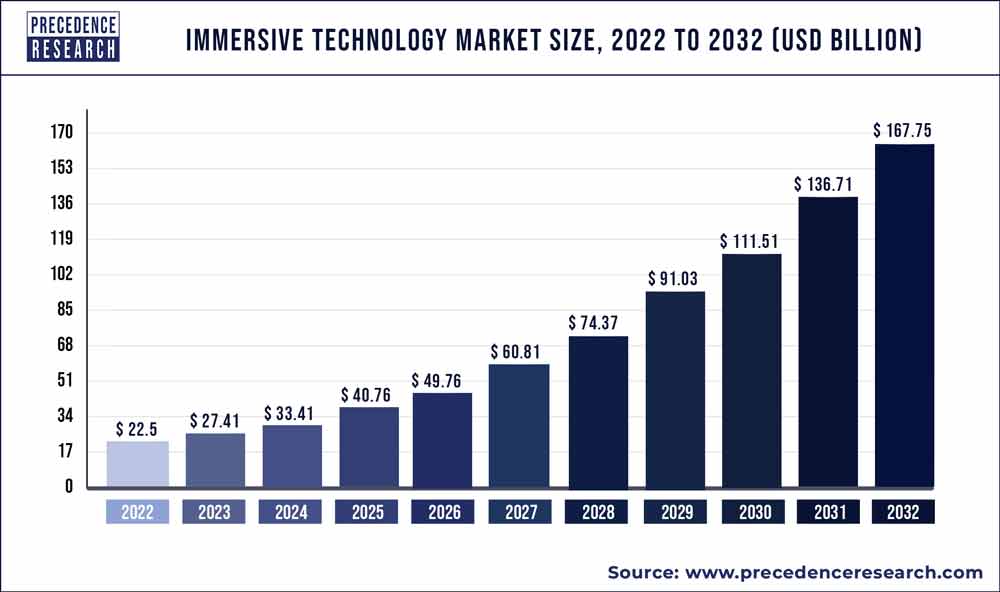 It was all about immersive interactions at CES 2023. VR and AR are again in the headlines this year with 360° immersion and powerful graphics that exhibitors use to convey stories.
The other element that was prevalent at CES was security and safety. As we live in a more connected and globalized world, we want to connect devices and platforms seamlessly. And this comes with implications regarding the security of our data and the protection of our online assets.
Companies are paying more attention to providing established protocols that connect and integrate devices in a more reliable way for the user. It's a growing trend with Millennials and younger generations who seem to care less about privacy and security and more about sharing personal stories. Most recently, with the popularity of TikTok, there are many videos and live streams of people sharing details of their everyday life and experiences. Since less attention has been paid to security by consumers themselves, brands are emphasizing protecting and safeguarding their customers.
Smart devices at home are also helping with safety and security. Google, Amazon, Samsung, and other large brands are investing in smart technologies that help keep track of CO2 levels inside a home, when air conditioning filters need to be replaced, if a fire starts in your stove, or when your light bulbs are about to burn out. All these things can be automatically monitored thanks to the Internet of Things (IoT) and the next level of safety in a connected world.
Inject your brand healthy dose of digital storytelling.
Think creatively how your brand can tell a story and sprinkle technology in to support it. At CES2023, technology gained prominence as it was designed to be purposefully weaved with storytelling. The space that you manifest with your modular exhibit creates a constructive workshop for your brand as it combines physical and digital fueling the joy for 'attention seeking' and the thrill of 'attention moving'!
Our teams at Skyline have been putting more emphasis on sustainability and security in developing exhibits and technology that support a powerful message for our clients. We are exploring ways to innovate and utilize technologies that provide a safe and sustainable way for our clients to interact with their audiences.
exhibits.skybay.com, www.skyline.com